Tan Sri Lim Kok Wing dies, cause of death still unknown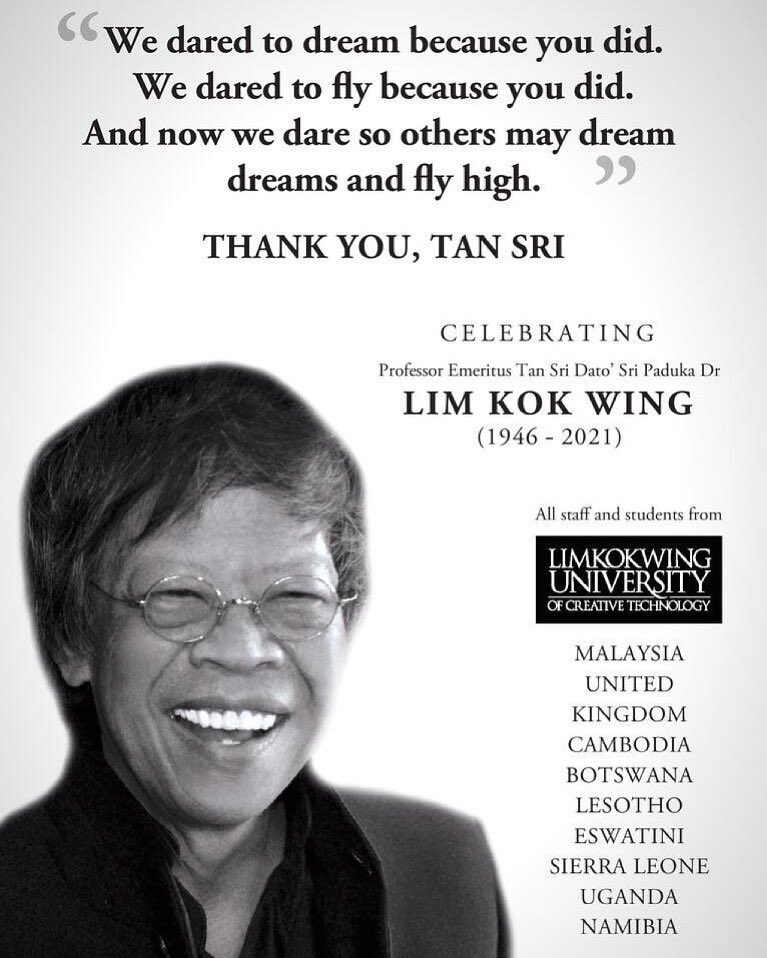 Universe smiled on Lim Kok Wing
University Founder-President went as man who had mission unfulfilled.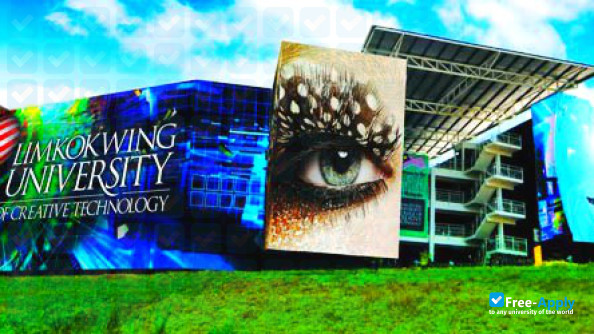 OBITUARY . . . I used to write for LimKokWing University of Creative Technology Founder-President Tan Sri Datuk Sri Paduka Professor Emeritus Dr Lim Kok Wing, 75, and the institution until the pandemic came.
I don't say LUCT. LKW emailed me once, "just say LKW".
I could have continued writing for the university, as he urged, but saw no point until the pandemic ends. The worldwide phenomenon disrupted the university and set it back.
He sent me a whatsApp early this year, "We must do more work this year".
I agreed.
LKW was perhaps more interested in what I was doing. "Make me a part of whatever you are doing," he said. "I want to be invited to speak all over the world."
Perhaps he felt that I could position himself in that role. I made no promises. I was not speaking all over the world.
LKW felt that M'sia was a nation which did not recognise him. I never asked anything about it. I suspected that M'sia may have tried to give him a tough time.
LKW in person was very private. The public perception, created by the media, had him as someone who basked in public attention, perhaps even a showman in a way. The public perception may have helped the university's image worldwide and made for its amazing success.
It was not so long ago that a Mahathir daughter, Marina, tore into him in a tweet. She claimed that LKW was found sneaking around the father's kitchen, one Aidil Fitri, uninvited.
It was Open House.
LKW immediately deleted his twitter account.
Patently, there were issues.
LKW did advise Mahathir to stop attacking then Prime Minister Najib Abdul Razak. It was clear that those who stayed in glass houses should not throw stones.
Two principles in leadership emphasise, "never look back after walking away" and "never interfere in the internal operations of a Dept".
LKW also organised the aborted #Nothing2Hide public event before GE14. Mahathir turned up and was escorted out by Security. Najib, alerted on Mahathir's presence, did not turn up. He turned back.
The university has 98 programmes. The accreditation process for eight programmes are being re-done in compliance with changing criteria.
The universe smiled on Lim Kok Wing but he was a man unfulfilled. Karma caught up with him. He neutralised it and then, the end came suddenly.
LKW probably saw himself as a variation of SadhGuru, the spiritualist, mystic and yogi who shuttles between India and America and addresses numerous public gatherings. He's always in the media.
SadhGuru connects the dots on everything including on things he probably knows nothing about. SadhGuru himself urges, "we must say we know nothing, then the longing to know will arise".
I suspected that something was amiss when LKW didn't read a whatsApp message sent on Thurs 20 May 2021. The last message read was on Wed 19 May. The message sent on Sat 22 May was undelivered.
This has happened before, but only for half a day at the most, whenever he was abroad. I thought that he was out of the country.
Just days before May 19, LKW was already not reading the whatsApp messages immediately. When he read, sometimes he didn't respond. I didn't dwell too much on the sudden change. In hindsight, he was probably already not well.
On Tues 25 May, the university issued a statement. Apparently, he had a fall at home and was hospitalised, but stable and recovering. A media report before the statement said that LKW was recovering at home after the fall.
Earlier, I had a caller who asked, "did you hear anything about Lim Kok Wing? There are rumours that he passed away".
I mentioned the whatsApp going silent.
Now, he's gone. The university confirmed in a statement on Tues 1 June 2021.
We don't know the cause of death. There's much speculation. Let's not go there.
I believe the public have a right to know. It's a matter of public concern and public interest.
The cause of death will be in the medical certificate of death and the kad pengenalan mayat.
The National Registration Dept will issue the certificate of death based on the medical certificate of death.
[06/06, 15:27] JF:
What is responsible for the symptoms?
[06/06, 15:33] Dr RB:
That's for a textbook!
As there are a variety of symptoms such as fever, cough, difficulty in breathing, diarrhoea, tiredness, etc., etc., there will be different mechanisms for each.
I don't have the knowledge to write such a textbook, and I haven't actually seen patients suffering from Covid19!
Apparently, LKW did attend a corporate dinner not so long ago with two gentleman. He was seated at the same table with them. Both men caught Covid-19, according to the media.
Paramount Corporation Bhd chairman and executive director Datuk Teo Chiang Quan, 72, died on Mon 24 May, reportedly after a 21-day battle with Covid-19.
"Prominent surveyor and real estate expert" Michael Geh, 57, died on Tues 15 May 2021, reportedly ten days after he was admitted for testing positive.
One lesson from the said corporate dinner may be that crowding must be avoided until the pandemic ends. Karma spares no one.
It's crowding at the community level that transmits and spreads the virus.
Again, crowding may no longer be necessary to transmit and spread the virus.
It appears the virus has transmitted and spread everywhere.
It can emerge anytime, anywhere, and form clusters, surges and waves.
Those who have not been vaccinated should stay at home. Vaccination appears a must for those working outside the home. No choice!
The vaccine can only be taken by those in good health. Otherwise, the risks are uncertain.
It was a chance encounter with LKW at the The Gardens Mall, next to the Mid-Valley MegaMall in Kuala Lumpur, just days after GE14 on 10 May 2018, that saw me engaging with the university until the pandemic.
It was fate, for want of a better term, that brought us together again.
I came out of Robinson's Store one afternoon, wearing a suspender belt, for the first time since childhood. I used to hate suspender belt. Now, I needed one to hold up my pants. The waist of the pants was too loose.
I saw LKW in black walking towards me. He was accompanied by five men also in black . . . driver, PA and other staff.
I stepped forwarded and greeted him, my hands extended: "Tan Sri Lim Kok Wing?"
He said: "Yes."
Some of the five men immediately came "menacingly" between him and me. He casually waved them aside with a smile.
He said: "Oh! You look very smart", nodding at the suspender belt.
I said: "I just bought it". I pointed at Robinson's behind me and added. "I just met Samy Vellu downstairs."
"Oh, Tun!, " he responded. "How's he?"
Samy was still willing to continue as Special Envoy to India and South Asia under the new Mahathir Administration.
"The last time we met was for lunch at the Old Regent at the Imbi junction," I reminded LKW. "You were with Wings Creative."
"Oh! When was that?" he asked.
"It was in late 1979/early 1980," I said. "I interviewed you for Media in Hong Kong."
"Oh! That was a long time ago," said LKW. "You still remember!"
Something about the lunch stayed with me over the years. LKW disclosed that he spent half his time doing work free of charge for charitable organisations.
He asked: "What are you doing now? Come write for us! I like to give people opportunities. I want to do something for you since we have met after quite a long time."
"See me at the campus," he added as he walked away abruptly in a great hurry.
The PA thrust a business card in my hand. All the men in black followed LKW, none looking back.
Later, I spotted LKW down the corridor, entering a shop and just looking around. The five men in black stationed themselves outside, at the left and right.
I sent LKW a whatsApp. He responded immediately and suggested a meeting at the campus.
He asked during our meeting: "What can you do for us? Don't say PR. We have enough of that."
"You said 'come write for us'," I reminded him.
"Yes, I did," he agreed.
I was beginning to wonder whether he was eccentric.
I gave him my CV. He took it but never read the document. He set it aside. He didn't read the CV that I emailed him.
The meeting lasted about 45 minutes and ended just as abruptly after some idle chit-chat. There was no decision, no agreement on anything.
Before I left, he said, "I don't know how expensive you are. Keep in touch."
I left the university with some bags containing books gathered by the staff. I had to do some reading.
Briefly, to cut a long story short, we kept in touch by whatsApp. The exchanges were not about writing for the university.
From time to time, he would suggest meeting for coffee. It was always at the Bangsar Shopping Complex, or KLCC, once at his house in Cyberjaya, at other times they were at the campus. His house overflows with art pieces. During my first and only visit, I didn't immediately notice where he was sitting.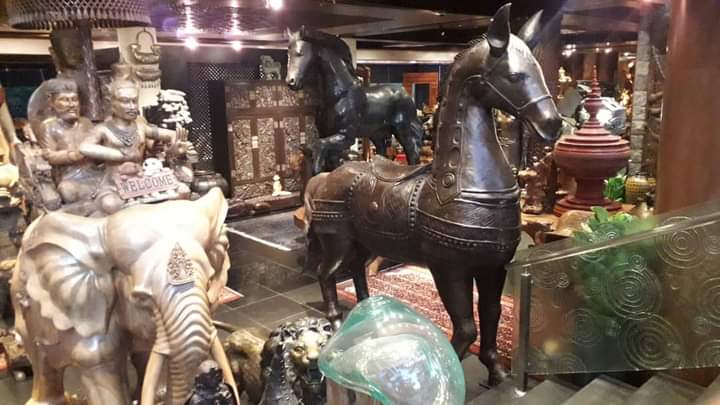 LKW's house in Cyberjaya overflows with art pieces.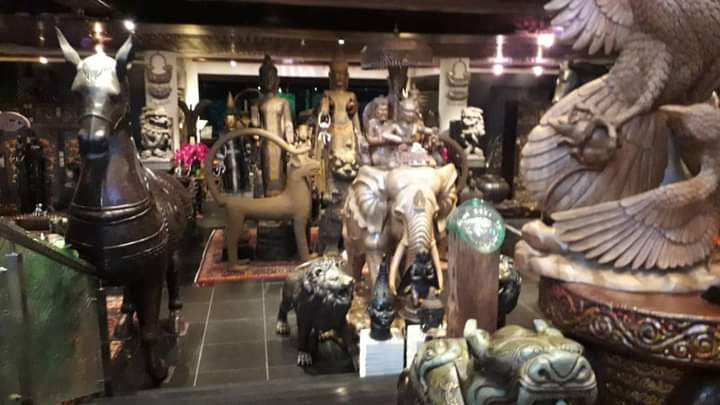 I would fly all the way from Kota Kinabalu to Kuala Lumpur just for coffee with LKW. The coffee sessions had no Agenda. If he was not eccentric, I could not be one.
Once we had dinner at a posh Chinese restaurant in Kuala Lumpur.
Every time we met, he would have a small gift. I gathered that he likes to wander through the shopping malls on weekends, watching people, and probably picking up gifts.
I never asked the university for the air flights to be reimbursed. The university was a big place. I wouln't know where to begin. I didn't want to ask LKW.
One day, he said, "you don't have to fly all the way from KK just for coffee. We can meet whenever you are in KL."
Sometimes, he would whatsApp, "are you in town?"
I never left KL without meeting LKW. It was usually on a weekend. He was very busy during the weekdays. Sometimes, I would stop at the campus on the way to the Airport.
The whatsApp exchanges and coffee sessions went on for months. I never mentioned his invitation about writing for the university.
I was very surprised that he was in touch by whatsApp and kept inviting me for coffee. He was a multibillionaire, in US$, and had a worldwide business empire behind him. He appreciated my input and saw value in the way that I connected the dots.
One day, he suddenly said, "You know! You are very critical in your writing. Writing for the university won't be like that."
I kept a discreet silence.
I was beginning to wonder whether he was in fact eccentric. I could not avoid the whatsApp exchanges with him. It was habit to read whatsApp messages immediately from anyone and respond.
Some people around LKW warned me that nobody lasted with him. It may be a few weeks, a few months at the most.
One lady, who has lasted some years with him, disclosed, "Many people have come from this and that media. They claimed that they can do this and that. None lasted."
She added that besides her, another lady has lasted some time with LKW. The other lady was a part timer and wrote a book on him.
LKW told me that many of those who were at Wings Creative were still with him.
LKW would have remembered them in his Last Will and Testament. I would have been mentioned as well. He wanted to support the work that I was doing.
Finally, one day at the campus, I asked him: "When can I start writing?"
He said: "You can start anytime."
"What do you want me to write?" I asked.
The response was not totally unexpected.
"Oh, I couldn't tell you what to write. I wouldn't be able to tell you. I wouldn't know where to begin. Write whatever you want. Wander around the campus. Meet our people. Visit our website. Read the books we gave."
He advised me to invoice him at the end of the month. "How much do you want?" he asked.
I said that I would leave the payment to his discretion.
It was a wise decision. I would have asked much lower than what he eventually paid. The first cheque, set the rate for subsequent payments.
From time to time, LKW would ask me to recommend people for various positions. Usually, it was for a couple of PA or Managers. Once it was for a GM. Another time, he wanted a COO.
He preferred to hire people who came recommended.
Some people turned up for interview in Cyberjaya. Invariably, they were hired but never started working. They waited for the appointment letters which never came.
I advised the newly-hired to just turn up for work. None complied.
I checked with LKW.
"You are right," he said. "When you have met the number one himself, you don't need an appointment letter from HR to start working. That will follow later."
"You didn't ask for any letter."
LKW told me more than once, "don't join the university. Stick to the writing."
He didn't want me to change.
LKW once said, "you are better than any university. You are the best investigative journalist I have come across".
Actually, I am not an investigative journalist. I focus on connecting the dots based on the spiritual nature of truth. This may sound like prophecy. It's not rocket science. It's about predicting the future based on the past.
The predictions are not about the individual but the collective. God, a personal experience, does not intervene in human affairs.
The Holy Bible, the Word of God, is about the spiritual nature of truth.
Word of God refers to eternal laws on eternal truths. These have a spiritual nature.
Jesus explained Truth and Faith.
Law remains. Law is about the regulation of human relationships.
Law complements and supplements my decades in journalism. Law includes eternal laws on eternal truths.
Karma, according to Sanatana (science) Dharma (duties) is the 1st eternal law on eternal truth.
The True Definition of Karma is in the Holy Bible, the Word of God. It's about the spiritual nature of truth.
Related links . . .
https://www.facebook.com/pages/category/College—University/limkokwing/posts/
https://www.edgeprop.my/content/1851510/covid-19-claims-life-paramount-corp-chairman-datuk-teo-chiang-quan
https://www.freemalaysiatoday.com/category/nation/2021/05/15/penang-real-estate-expert-michael-geh-dies-of-covid-19/
https://www.limkokwing.net/m/courses_details/bachelor-of-computer-science-hons-cloud-computing-technology