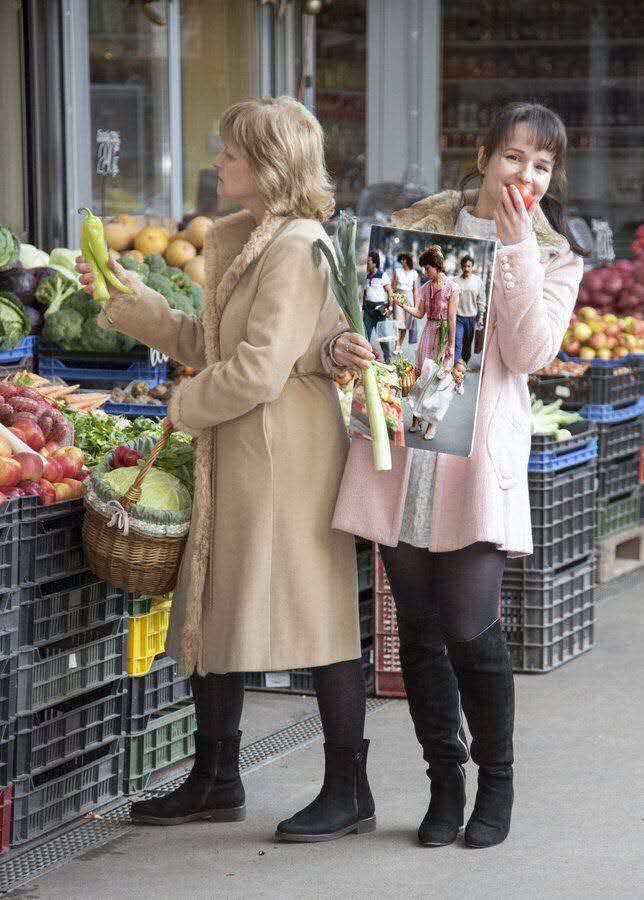 The following text and the two pictures were received by whatsApp . . .
Reproduced 33 years after mother carrying baby in plastic bag
A beautiful photo taken by the photographer has become a classic that has been circulated for decades.
A Hungarian photographer, Attila Manek, accidentally caught a mother buying fruits and vegetables in a market in Budapest, Hungary in 1987, carrying a small baby in a transparent plastic bag, and the baby gnawing at an apple.
In the photo, the mother with short hair was profiled, and she looked elegant like Princess Diana of England, which amazed many people.
However, what was even more eye-catching was that she went to the vegetable market and carried her baby in a large plastic bag.
The muscular lines of the tendons and the images full of disharmony have made this photo widely reposted by netizens for many years.
33 years after that photo, photographer Attila Manek once again found the pair of Hungarian mother & daughter.
At that time, the baby in the plastic bag had grown up to become a light mature woman in her 30s.
The photographer and the pair of mother & daughter once again returned to the Budapest market, to recreate the scene in a funny way.
The daughter happily held the photo taken by Attila Manek earlier and posed for another photo after 33 years.
Attila Manek shared this latest photo of the Budapest mother and daughter in early 2020, and it quickly evoked many comments from netizens: "Too touched! That little baby grew up healthy and healthy back then" and "The mother after more than 30 years is still elegant and beautiful."
"I really like this pair of mother and daughter, I feel that their relationship is very good".
"Mom really looks like Princess Diana, and still exudes an extraordinary temperament."
A momentary shutter connected stories 33 years apart, leaving eternal images and memories.
This is the combination of warm humanism and cold technology.